June 15th, 2013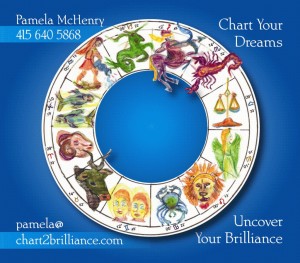 Time For Me
AstrologyStarlight – Pamela McHenry, "StarGoddess"
Toll Free (877)624-6246
Confidential recorded astrology consultation, call today toll free:(877)624-6246. "Stargoddess" for an enlightening recorded astrology session to help enlighten your path to your highest potential.
Esoteric Astrologer
I have been studying metaphysics for over 30 years. I help you to reconnect with your horoscope with meaning and purpose. Discover more wonderful aspects of yourself and your greatest attributes to accomplish your goals. Together, I will help you see the positive aspects of your chart and how you can face any difficult situation. I wrote for Overviews including romance and career for NBC Universal I Village and Yahoo Astrology and had a blog for the celebrities of Grey's Anatomy and Desperate Housewives.You may also visit Pamela McHenry's website at http://www.astrologystarlight.com.
Astrologer – Writer of Weekly blog for ABC television celebrities as "Stargoddess" See what she wrote about the celebrities for ABC's Grey's Anatomy and Desperate
Housewives.
View Pamela's 2008 astrology forecast by clicking Year 2008 Horoscopes as published on NBC Universal IVillage Astrology website, as well as published on Yahoo Astrology. You may also visit her gift-buying guide suggestions by astrology sign by clicking here: Gift-buying for your Husband by the Signs.
Pamela McHenry uses astrology to easily help you heighten your understanding and awareness of your chart and give you a clearer view on how to use your chart for your highest good!
Learn how to achieve your highest potential and recognize and reach your highest star of opportunities. I will help you navigate through twelve areas of your life to bring more joy and potential solutions to working with your individual horoscope with meaning and purpose.
Astrological Consultations
• Natal charts • Solar and Lunar return astrology
• Compatibility Charts • Astrocartography
Natal Chart Reading – The position of the planets in the sky is different and uniquely yours based on the date, time and location of your birth. Understanding your natal chart helps to understand why sometimes things come easily for us in certain areas of our lives and other times areas of our lives may be extremely difficult and we may suffer many hardships. I will show you ways to turn your life around. Through a reading, I help you understand your horoscope and how to work through challenges in a way where you will feel empowered rather than victimized. I show you where and how you can draw on your strengths to work through patterns and manifest a positive outcome. Learn where you
can draw upon to break away from negative programming and re-frame your life. Healing happens when we have a clear understanding of our self so we can bring light into difficult areas we may be experiencing.
Astrocartography – Different locations in the world have different opportunities that may affect our lives based on latitude and longitude and our individual horoscope. Certain areas are easier to support what we are desiring to achieve than other places in the world. Whether you want to relocate or travel to another area to accomplish goals, this can be valuable information.
Solar Return Charts – Every year our birthday brings us changes and a time of new opportunities when you can expect new and exciting things. Be ready for align yourself up to the gifts of your new year. Call me for a reading a couple of months prior to your birthday so you can make the most of your new year..
Compatibility Charts – Need help understanding a friend or loved one? wonder why sometimes there are conflicts in your relationship? I can give you insight into your relationship by looking at both of your charts together and give you tips on how to understand and appreciate each other in a new way where you can find happiness.
I have been giving astrological counseling for over fifteen years and will help you reach to your highest stars for the strength, support, courage and love you need to help deal with any situation.
When you call, I will be happy to give you a free five-minute consultation. Please provide your date, time, and place of birth for your reading when you leave a message and I will get back with you within 12 hours.
If you need some gift-buying ideas this holiday season for your husband according to his astrology sign, Click here: Gift-
buying for your Husband by the Signs.
For the latest astrological insight into the celebrities from ABC's Grey's Anatomy and Desperate Housewives, click here
to see her weekly blog. Here she is able to give you the inside scoop of your favorite stars' personalities and desires
relating to their horoscope. To view her SeenOn tv weekly blog, click here. You may be amazed at how many similarities
you may share with these celebrities.
Hours of Operation:
Monday–Friday,
8:30 a.m.–7:00 p.m. (PST)
Saturdays, 10:00 -6:00 p.m.Toll Free: (877)624-6246
Share on Facebook